For the first time in 2023, monthly home sales surpassed the prior year in western Nevada County — by a single home sold.
There were a total of 100 homes sold locally in October, according to Multiple Listing Service statistics. That's one home more than sold than the 99 recorded sales in October 2022.
Sales have lagged behind last year's transactions throughout 2023, until October, underperforming 2022 sales each month.
It remains to be seen if the final three months of 2023 will see as drastic of a drop in sales volume as last year's final quarter — which saw a 34.8% decline, or 144 fewer homes sold, from the third quarter of 2022 — but the market typically slows heading into the winter months.
How slow it will go, we'll soon see.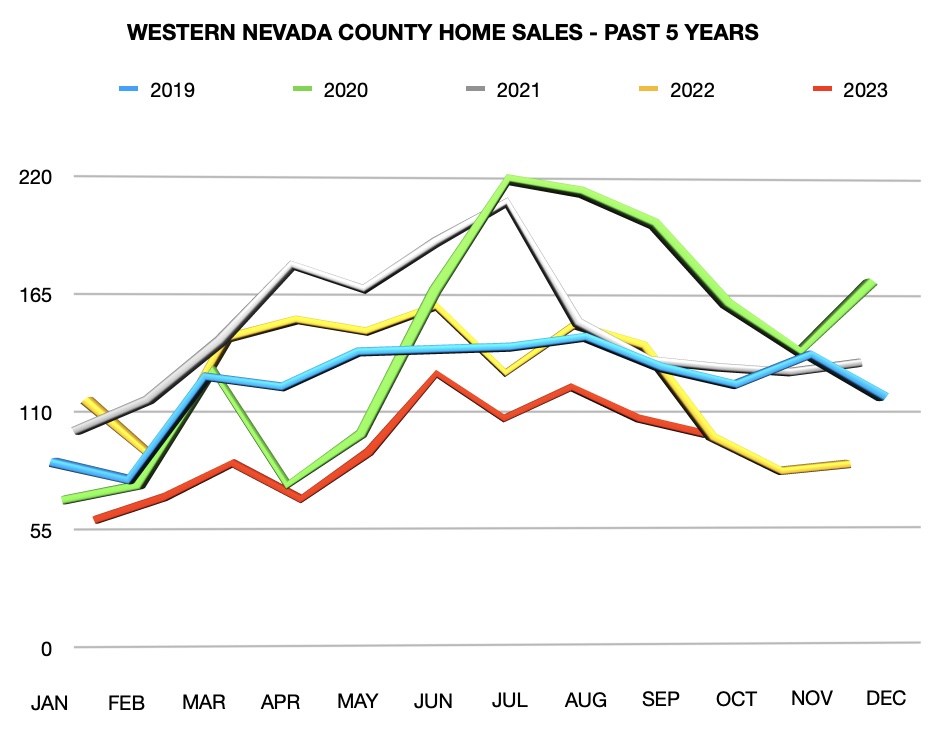 There were 111 pending sales recorded in October, slightly down from 115 in September, marking the seventh month in a row pending sales were in the triple digits after a first quarter that failed to reach the century mark each month.
Although monthly sales volume has lagged behind the past five years, the past five months have shown some market stability in both inventory and pricing.
The median price of a home sold locally in October was $527,000. That's down 5% from September's $554,500 median, which had marked the fourth consecutive month above the $550,000 threshold and eighth-straight month above $500,000 since February's recorded median price of $469,500.
Since starting the current year with extremely low inventory — failing to surpass 200 homes on the market in any of the first three months of 2023 — there were 352 local listings in October, marking the fifth consecutive month with more than 350 homes for sale.
In October 2022, there were 362 homes listed, followed by 310 and 234 in November and December, respectively.
As sales slow into the winter months, so has the median days on market for homes that have sold.
According to MLS data, the median days for a seller to receive an accepted offer was 33 days in October. That's up by one day from September, but 83% longer than the 18 median days on market recorded in August.
BY THE NUMBERS
October home sales in western Nevada County:
$527,000 — Median price (2023)
$525,000 — Median price (2022)
33 – Days on market (2023)
39 – Days on market (2022)
100 – Homes sold (2023)
99 – Homes sold (2022)
352 – Homes for sale (2023)
362 – Homes for sale (2022)
Brian Hamilton is a Realtor (DRE #02149112) for the Betsy Hamilton Real Estate Team at RE/MAX Gold (DRE #01949144) in Grass Valley. Email him at Brian@BetsyHamilton.com or visit www.BetsyHamilton.com for more information.